一、Equipment Process
Automatic folding mask machine is an automatic machine used in the folding mask production line. It adopts ultrasonic technology to fuse 3-6 layers of PP non-woven cloth, activated carbon filter material and filtration material. The whole set of equipment can be processed into 3M 9001, 9002 and other folding masks through the integration of non-woven fabric fusion, ear band fusion, printing, folding in half, sealing, rolling, etc. According to the product demand, the raw materials can be used to produce masks up to different standards such as FFP1, FFP2, N95, etc., the whole process of production does not require manual work, and the finished products are fully automatic.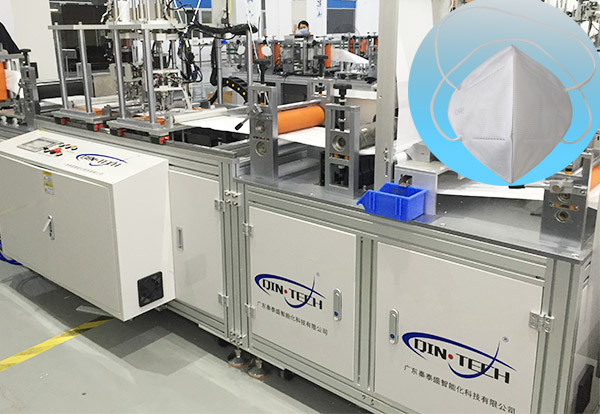 Auto Loader→nose bar feeding→Ultrasonic fusionLogo→LogoPrinter(0ptional)→Headband fusion→finished masks→Ultrasonic→Folding forming

1.product specifications:
1.1Making 3 ~ 6 layers of PP non-woven cloth, activated carbon and filter material, and cut out the folding mask body. N95 mask is used for occupational respiratory protection, including certain microbial particles (such as virus, bacteria, mold, anthrax bacillus, tuberculosis bacillus, etc.)
1.2Basic configuration parameters of the device
technical parameter

1

power supply

AC220V 50HZ

2

Gas source

>0.6MPA

3

Productivity

≈30psc/min

4

Production yield

≥95%

5

Power

1

5

KW

6

Equipment size(mm)

9800(L)*1500(W)*1900(H)
Features of equipment
1、Automatic control of raw material tension to ensure the balance of raw material tension.
2、.Photoelectric testing raw materials, avoid mistakes to reduce waste.
3、Variable frequency control, can adjust the speed of equipment according to the needs.
4、Highly automated, simple operation, only need to discharge materials and tidy up finished products.
5、the whole machine adopts sheet metal + aluminum alloy structure, beautiful and strong without rust.
6、modular, user-friendly design for easy maintenance.
7、 Structure Features PLC control, English and Chinese interface can free to convert.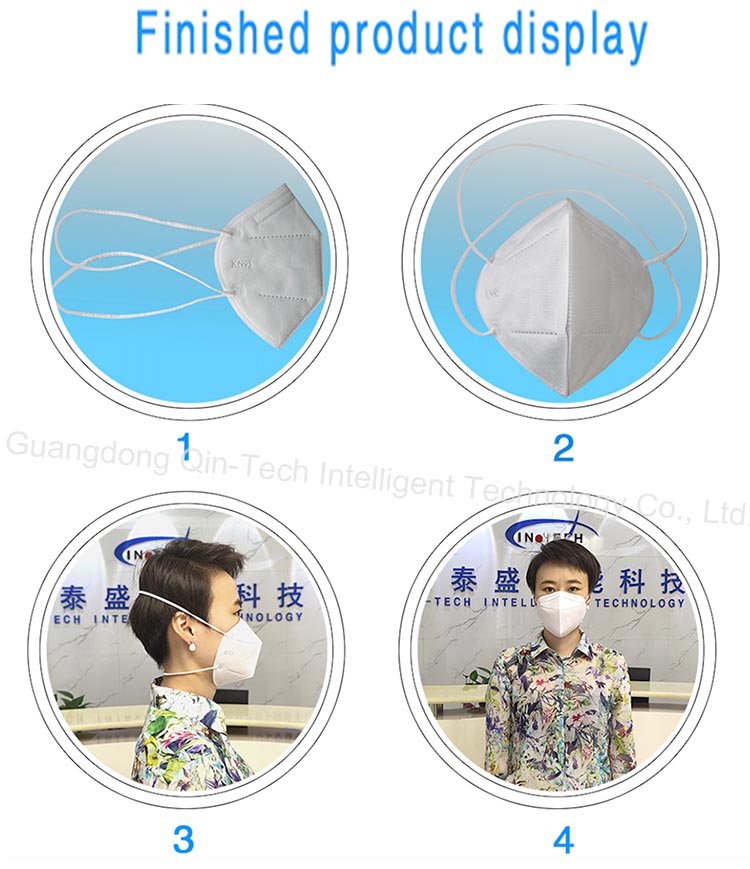 Equipment operation requirements
1. 1.It can realize the operation mode of manual, automatic and single-action operation switching each other. The alarm should be displayed in the man-machine interface.
2. Adopt industrial computer to realize real-time communication with PLC, realize man-machine dialogue through touch screen, each setting operation needs to be simple and convenient;
3. The equipment complies with the national safety standards for electromechanical equipment;

other requirements

1. This equipment acceptance standard: one week before the completion of the equipment assembly and commissioning, Party B will be notified to prepare the production materials, and the acceptance will be carried out according to the technical requirements. If the acceptance is qualified, Party A will ship;

2.Both parties shall appoint technicians to participate in the acceptance of the equipment and sign the acceptance report.
Installation, commissioning and training

The supplier's technicians are responsible for the remote guidance of the buyer's personnel for installation and debugging; The commissioning materials shall be provided by the buyer.