AMPM-4 Fully Automatic Four Side Sealing Mask Packing Machin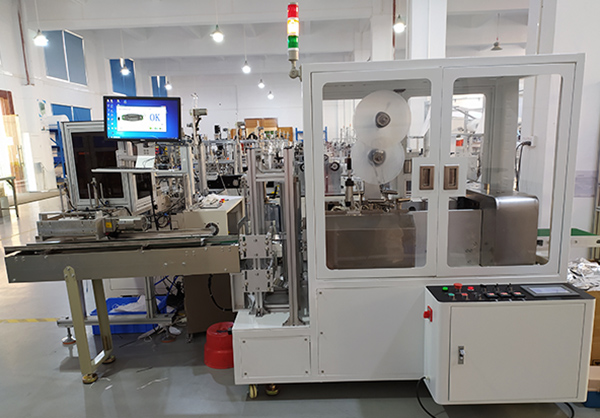 一.Packaging principle description
1.The packaging film is positioned on the mandrel of the paper tube (clamping device) → the product is placed on the tailstock for feeding → the product is automatically fed into the bag maker for four sides forming → (longitudinal) end sealing knife seat sealing → cutter cutting → finished bag
二.Equipment functions and parameters
Main functions and features of machinery
1.Servo motor independent control system, bag length is set and cut immediately.
2.parameter setting convenient and quick.
3.Fault self-diagnosis function, fault display is clear at a glance.
4.High-sensitivity photoelectric eye color mark tracking and digital input of the sealing and cutting position make the sealing and cutting position more accurate.
5.Independent PID control of temperature, better suitable for various packaging materials.
6.Positioned stop function, no sticking to the knife, no waste of film.
7.The transmission system is simple, the work is more reliable, and the maintenance is more convenient.
8.All control is realized by the program, which is convenient for function adjustment and technology upgrade, and meets the intelligent operation.
II. Suitable products
Automatic four-side sealing mask packaging machine suitable for KF94 fish mask, disposable flat mask, n95 mask packaging
Ⅲ.Technical specifications
| | |
| --- | --- |
| Four-side sealing model | AMPM-4 |
| Film width range | 120-280mm |
| Bag length | Product can be set or automatically detected |
| Width of finished bag | 80-120mm |
| Product height | Single piece (piece) product packaging |
| Film roll diameter | Max.320mm |
| Packaging speed | 30-80Packs/minute |
| Power Specifications | 220V,50/60HZ,3KW |
| Machine size | (L)5000 X(W)1200X(H)2200mm |
| Machine weight | About 850kg |

ⅣEquipment configuration table
The configuration of packaging machinery is the core symbol that determines efficient operation. The stable operation of core components determines quality, which can create maximum benefits for customers.